Gate 39 Media's Team Shares How They Work Remotely
As we enter yet another month of quarantine, and so many work remotely, we here at Gate 39 Media have made it a priority to be as united as possible during these difficult (and socially distanced) times.
Since March, we've had happy hours (virtually), including a live set by a Las Vegas comedian and even a rock concert (yes, virtually). Well, now we're taking it a step further and giving a behind-the-scenes look at how some members of our team have been holding up while working from home.
With these mini-interviews, we're answering everything from pet updates to favorite quarantine shows, and even tips on separating work from home life (even though they're pretty much the same thing). So here's how Gate 39 Media has approached working from home, and how you and your team can too.
How do you separate work and home life?
Sarah McNabb, Chief Marketing Officer: In addition to having a dedicated workspace, I maintain a structured workday schedule that includes a clear stop. I'll schedule evening workout classes throughout the week to ensure that I have a hard stop to focus on getting physical movement and activity in.
Megan Smith, Director of Client Services: Over the last couple of months my husband and I took off our email notifications from our phones. I had a guilty habit of checking my work email every 15 minutes. It's now evolved into an 8 pm "unplugging" rule. We put our phones down to unplug from social media, work, and any outside dramas. It's become our special time together. Quarantine has been so focused on distracting yourself from boredom. We forget how lucky we are to have this extra time together.
Nick Landsberger, Lead Designer: Since I started to work remotely I've had considerable time to update my in-home workspace. What used to be a desk fit for weekend projects or personal design, has more or less become a fully functional office for me. I've made it as such to allow myself a separate space that keeps me focused throughout the day on my work, and give me a place to leave when the day is done and it's time to relax.
Eduardo Estevez Nunez, DevOps Specialist: I have been planning different activities that get me away from my desk after 5 pm. I try to go out, walk, or do some hobby.
What do you miss about going into the office as you work remotely?
Jalyssa Woodall, Digital Marketing Specialist: I miss the commute to work! I'm a true city girl, so I enjoy taking the train, walking through Downtown Chicago, and getting in "the zone" before work. It's therapeutic for me. And of course, I miss interacting with the G39 Team!
Shane Stiles, President, and Founder: There's so much really, but without a doubt seeing and talking to the team, with clients and friends in person. While we have been great with encouraging video chat, the spontaneity of conversation is missing.
Carolyn Beatty, Client Services: Getting to spend quality time with the rest of the Gate 39 Media team. I've realized how much I took for granted eating lunch with other people, hearing about what they have going on outside of work, and sometimes just taking much-needed breaks to laugh together.
Walter Loburak, Developer: Missing the office noise and laughs with the team.
What's the most exciting thing you've done during quarantine?
Jalyssa Woodall, Digital Marketing Specialist: I've started cooking way more! I'm usually big on going to restaurants or my favorite fast food spot (I miss you, Taco Bell) but with the uncertainty of everything I've made it a priority to cook as much as possible, and it's honestly improved my skills tremendously.
Carolyn Beatty, Client Services: I wrote an extremely silly Halloween-themed song and made a music video for it – all from my house!
Sarah McNabb, Chief Marketing Officer: My husband started a YouTube cooking video series called "Season Liberally" and I've been helping to film and get that project off the ground during quarantine.
Walter Loburak, Developer: I started doing yoga and made myself a home workout program. Trying to be consistent with it!
Eduardo Estevez Nunez, DevOps Specialist: I have a new Canon Camera and I'm enjoying taking photos during the weekends. I have found a new hobby in photography.
Lots of us here at Gate 39 Media have pets, how has your furry friend adjusted to you being home more often?
Sarah McNabb, Chief Marketing Officer: I have 2 Siamese boy cats. Piper – the one who has claimed me as his human in particular – was really clingy the first few months, always wanting to sit on my lap during the day. But then he became less needy as time went on. They're good about sleeping during the day mostly, but whenever I have Zoom calls, that is inevitably the time Piper will choose to loudly announce his presence.
Megan Smith, Director of Client Services: Charlie James is my rescued fur son and newly hired assistant as I work remotely. If you have been on a call with me or have a call scheduled, you'll like to hear or see him make an appearance. If I had to name a family member who is loving our new routine, he would be the one. His treat consumption has hit an all-time high!
Nick Landsberger, Lead Designer: Becks is our 5-month-old French Bulldog. Since bringing him home, my work-from-home situation has allowed me to better house train him and care for him while my girlfriend is away at work. He's come a long way since we brought him home at 9 weeks old, but my being here has made it easier to attend to the needs and energy of a puppy. He also provides me with an additional routine that helps me balance my work schedule.
Saif Ahsanullah, Support: I have one cat. She's a half-feral tabby named Khaleesi. The name is fitting because her half-feral side makes her extremely aggressive (I have to lock her up in the bedroom when guests come). I think my furry friend is upset I'm home more often and I'm sure she's counting down the days till I am back at work.
What's been your favorite quarantine show, movie, or book?
Carolyn Beatty, Client Services: I have been watching a ton of Real Housewives. It's terrible television but it is great mindless entertainment watching them doing all the fun things I wish I was able to do!
Shane Stiles, President, and Founder: I have been watching a lot of the streamed concerts online. I miss hearing live music and have enjoyed some of the unique performances and events streamed online. This of course includes this year's ALTSO Rocktoberfest (Watch here!)
Megan Smith, Director of Client Services: At the start of quarantine, I re-watched The Office, New Girl, and Parks & Rec all the way through for an amount I'm a little embarrassed to admit since most of those times were pre-Covid. I've also recently finished watching the Schitt's Creek series. And I can confidently say that I finally understand the hype – it's a must-watch series! If you're looking for a guilty pleasure show…90-day Fiancé! Surprisingly every member of my household is addicted. It's one of those "you can't look away."
Nick Landsberger, Lead Designer: My favorite movie over quarantine has been Hamilton. I remember first hearing about it when it started gaining popularity in New York. I'm not really a theater guy, but I am a fan of hip hop and history so it combined two of my interests. I was able to get tickets and enjoyed it very much when it came to Chicago, but since a recording landed on Disney+, I just cannot get enough. Being able to watch it from different angles really made me appreciate the choreography and production level all that much more.
Walter Loburak, Developer: I'm a big fan of live concerts, so during this time I've been enjoying live streams of my favorite bands. As for the movies, I was very excited to see "Borat 2"
Eduardo Estevez Nunez, DevOps Specialist: The Queen's Gambit is definitely one of the best movies I have seen on Netflix. This movie makes you really reflect on drug abuse, friendship, and family.
Restaurants are closing, masks are mandatory, and traveling is highly discouraged, with all of these changes, how are you staying mentally afloat?
Shane Stiles, President, and Founder: Making sure I go out for walks, listen to music, and set aside a few minutes to myself (away from the family) daily. The occasional beer (or two) also helps!
Jalyssa Woodall, Digital Marketing Specialist: I talk to my family a lot. We have scheduled Zoom calls every Sunday, where we pray, talk about our week, and encourage one another to push through.
Carolyn Beatty, Client Services: With the extra time I now find in my day, I make it a priority to take time and unplug from all my screens and focus on reading and exercising more than I typically have time to do. Both have been extremely therapeutic.
Saif Ahsanullah, Support: Our friends come over every night and we play video games and chill. My house has become the new hangout spot and it's been pretty fun. I will say, I can't wait until everything goes back to normal.
What advice would you give to teams across the country on how to stay United as they work remotely during these unforeseen times?
Shane Stiles, President, and Founder: Try to facilitate personal connections as much as possible, so everyone has a virtual shoulder to lean on and keep the personal connections. In terms of productivity, it's increasingly important that firms leverage project management tools and support systems that keep everyone organized and on track. We rely on these for everything from support and ticket tracking, to managing our resources across the US and the world.
Sarah McNabb, Chief Marketing Officer: Leverage technology, even beyond the standard conference call! I would encourage teams to have at least daily huddles using Zoom (with video) in tandem with interoffice messaging tools like TEAMS or Slack to communicate with team members in a fluid fashion (within normal business hours). We have dedicated FUN channels in our agency TEAMS where we welcome fun posts, daily fun facts, and helpful tips. I would also encourage teams to make time for team happy hours and team-building activities to help keep morale high while everyone continues to work remotely.
Based on the above, I think it's safe to say that we have all adjusted to this new reality in our own special way. But one thing we share is that we need the support of one another to push through. Our work-from-home timeline may be uncertain, but our goal of staying united stands true.
All of us at Gate 39 Media encourage you to fight the good fight, stay on top of your mental health, and continue to social distance. Together, we'll persevere through these challenging times as we work remotely.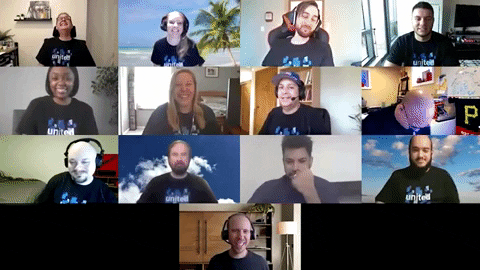 BE SURE TO CHECK BACK AND FOLLOW GATE 39 MEDIA'S #WORKINGREMOTELY SERIES
You may also be interested in: